Navigation
---
Distributed GAME-T2 Servers
---

General Information
This is the dataset of solar radiation observation done by Prof. Aoki, Tokyo University of Agriculture and Technology, Japan. Currently daily solar radiation values for 1998 and 1999 are provided .
Site & Observation Information
Please see another page.
Metadata
Data Type
Description
Solar Radiation Measurement at AGROMET sites
Type
Field Observation Data
Period Type
-
Holding
International Data Resource
Process Level
Level 2 (Station Data)
QC Level
unknown
Access Limitation
For any research purpose
Contents

Accumulated Solar Radiation (MJ/m2)

Spatial Range
Point/Points/Grid
Points
Location/Extent
11 sites in Thailand (AGROMET sites, see the map below)
Temporal Range
Period
From Jan. 1, 1998 to Dec. 31, 1999
Interval
Daily
LT / UTC
LT
Time Difference (LT - UTC)
+0700
Boundary
unknown
Contact Person
(See the list of contact persons for detail)
Prof. Aoki, M.
---
Data Archive
Note : The unit is MJ/m2/day
TMD Code
Station Name
Approx. Latitude
Approx. Longitude
Link to data
D
M
D
M
327301
Chaing Mai (Mae Cho)
18
55
99
0
Data
328301
Lampang
18
18
99
17
Data
331301
Nan
18
52
100
45
Data
376301
Doi Muser
16
46
98
56
Data
381301
Tha Phra
16
20
102
49
Data
400301
Tak Fa
15
21
100
30
Data
407301
Ubon Rachatani
15
14
105
2
Data
431301
Pakchong
14
42
101
25
Data
451301
Kamphean Sean
14
1
99
58
Data
551301
Surat Thani
9
8
99
38
Data(1999 Only)
568301
Kho Hong
7
1
100
30
Data
(Location of stations are referred from TMD's document of 2001/06/12 version)
MS Excel format (for all stations) : 1998, 1999
ALL text file archive (about 30KB) : tar.gz, zip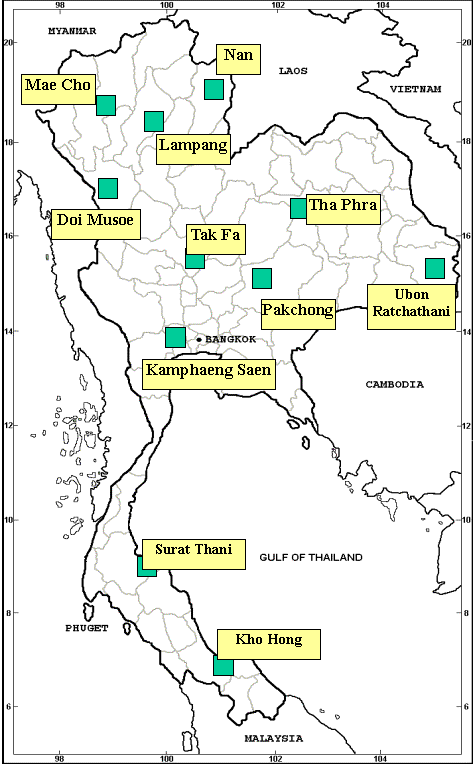 (This map is originally drawn by Prof. Aoki and modified by the manager of this site)
---
Other Information
[Overall]
From GAIN-HUB WWW Site. Strategy, guideline for data exchange etc.
From The Implementation Plan of GAME-Tropics draft in 1996, by Japanese sub-comittee on GAME-T.
A 32KB GIF image showing observation schedule by Prof. Oki
A 24KB GIF image showing a map of observation stations made by Prof. Oki (See also new black-and-white version).
From AMON(Asian Meteorology Online Newsletter), VOL. 1, NO. 4 (September 1997). Brief introduction of GAME-T data management strategy by Prof. Oki