Navigation
---
Distributed GAME-T2 Servers
---

Brief Description of Data
Dr. Donald at AIT has measured volmetric soil moisture at the study field near Sukhotai Paddy Field Observation Site of GAME-T. He divided the area into 6x17 rectanble areas, whose each size were 30mx25m. He carried out the "point" measurement at one point per one rectangle for 4 days during 1997 and 12 days during 1998.
Fig. Each Rectangle Area has size of 25mx30m (contributed by Mr. Shakil A. Romshoo)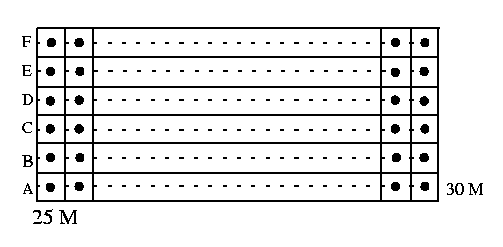 Mr. Shakil A. Romshoo, who did his research on soil moisture mesurement through remote sensing techniques, has collected these data from Dr. Donald. Following is the commentary from Mr. Shakil :
[Point Soil Moisture Measurements at Sukhothai]
The point soil moisture data at Sukhothai has been collected during the year 1997 and 1998 for around 16 occasions during the ERS-2 validation program. The sampling depth is 5 cm and the spatial resolution of each point is 25*30 M. The study area, spread over an area of around 10 hectares, is lying adjacent to Sukhothai Paddy field, Thailand. The layout of the field, indicating the sampling scheme, is given in the file (ps format) for the perusal of the researchers. I hope that does provide better understanding of the spatial location of these point measurements. The missing soil moisture data for certain grids is mainly due to the flooded field conditions on that particular date. The Soil moisture measurements have been recorded using volumetric methods. The data has been collected by one Dr. Donald at AIT for validation of ERS-2 SAR data. Moreover, there have been some soil moisture measurements recorded for a bigger area ( Spread over around 2 sq.Km.) around the Sukthothai observation tower and are refered in the documents as "Japanese Study Area" The missing soil moist
---
Data Index
Mesurement Date
| | |
| --- | --- |
| 1997 | 19JUL 01SEP 06SEP 15NOV |
| 1998 | 24FEB 28FEB 09APR 09MAY 06JUL 18JUL 19AUG 23AUG 02OCT 31OCT 28NOV 05DEC |
---
Current Status of Data Publication
Currently, the data publication to GAME commnunity under WWW environment is under construction, but those who belong to GAME can obtain data by sending me a request e-mail.
---
Other Information
[Overall]
From GAIN-HUB WWW Site. Strategy, guideline for data exchange etc.
From The Implementation Plan of GAME-Tropics draft in 1996, by Japanese sub-comittee on GAME-T.
A 32KB GIF image showing observation schedule by Prof. Oki
A 24KB GIF image showing a map of observation stations made by Prof. Oki (See also new black-and-white version).
From AMON(Asian Meteorology Online Newsletter), VOL. 1, NO. 4 (September 1997). Brief introduction of GAME-T data management strategy by Prof. Oki